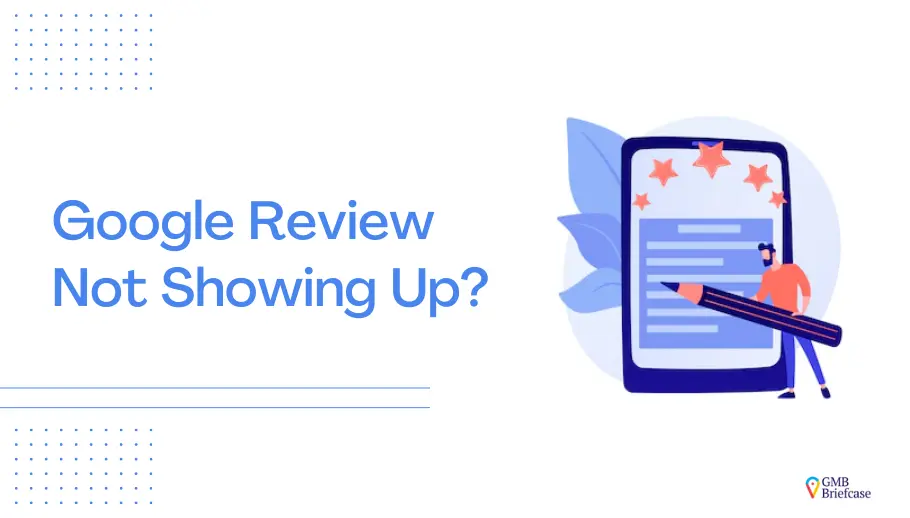 Have you recently added your business to Google but don't see your google reviews? You're not alone! Many businesses have complained that their reviews aren't appearing on the search engine, even though they have followed all the necessary steps.
In this blog post, we will explore some potential reasons why are reviews not showing up on google?  and offer some possible solutions. So keep reading to learn more!
What Are Google Reviews?
Google Reviews are online reviews that customers can leave about businesses on Google. Google uses these reviews to improve local search results and help people find businesses they're looking for. Customers can leave Google Reviews about businesses they've interacted with, such as restaurants, doctors, or plumbers.
Businesses can also proactively solicit customer feedback through surveys or other means. Reviews and ratings appear on a business's Google Maps listing and their Knowledge Graph card. A business's average rating is displayed prominently, and customers can read the individual reviews to get more information about the business before they decide to visit it.
Why Is Google Review Not Showing Up?
Google reviews are a valuable way for customers to share their opinion of your business, and they can also be helpful for boosting your ranking in search results. If someone recently left a review for your business on Google, but it's not showing up on your business listing, there are a few possible reasons:
1. Your Business Listing Isn't Verified
If your Google reviews are not showing up, it could be because your business listing is not verified. Google requires businesses to verify their listing before they can start collecting reviews.
There are a few ways to verify your Google My Business listing, but the most common is to verify by postcard. Once you have verified your listing, you will be able to start collecting Google reviews from your customers.
Google reviews can provide valuable feedback about your business, so it is important to make sure that yours are visible to potential customers. By taking a few minutes to verify your listing, you can ensure that your Google reviews are working for you.
2. You Have A Duplicate Google My Business Listing
If you have multiple listings for your business on Google, you may be wondering why they exist and how to fix the issue. In some cases, duplicate listings are created unintentionally when businesses move or change their name or website URL. In other cases, scammers will create fake listings in an attempt to steal customers away from your business.
If you've discovered that there are multiple listings for your business on Google, don't panic! While it may seem like a daunting task to have to clean up duplicate listings, there are a few steps you can take to fix the issue.
First, try to claim any unverified listing by following Google's instructions. If you're still having trouble, you can reach out to Google My Business support for further assistance. With a little time and effort, you can get rid of those pesky duplicates and ensure that your business information is accurate across the web.
3. Google (Temporarily) Disabled Reviews
Google recently announced that it would be disabling reviews for a short period of time. This change comes after Google received complaints from businesses that were unhappy with the way their reviews were being displayed.
Google says that it will be using this time to make changes to the way reviews are displayed. In the meantime, businesses will not be able to post new reviews or respond to existing ones.
Google has not given a specific timeline for when reviews will be re-enabled, but it is expected to be within a few weeks. This change is likely to cause inconvenience for businesses that rely on Google reviews to attract customers. However, Google says that the changes are necessary in order to improve the quality of its review system.
4. Inaccurate Business Information On Listing
Sometimes inaccurate business information may appear on your listing. This can happen for a number of reasons, such as if someone claiming to be from your business adds false information to your listing, or if Google incorrectly detects duplicate listings for your business.
If you notice inaccurate business information on your listing, you can report it to Google and request that the information be corrected.
To do this, Sign in to Google My Business and click the "Report a Problem" link at the bottom of your listing.
Then, select the type of problem you're experiencing and follow the instructions on the screen.
Google will review your report and take appropriate action. In most cases, Google will be able to correct the inaccurate business information on your listing within a few days. However, if the incorrect information is coming from another source (such as a third-party website), it may take longer for Google to make the changes.
Inaccurate business information on your Google My Business listing can negatively impact your business, so it's important to report any inaccuracies as soon as.
5. You Have Brand New Google My Business Listing
If you're like most businesses, you're always looking for ways to get more exposure and attract new customers. So when you see that you have a brand new Google My Business listing, it's natural to be excited. After all, Google is the world's largest search engine, so being featured prominently on their platform can definitely help give your business a boost.
However, there's one drawback – your Google review may not be showing up. This can happen for a number of reasons, but the most likely explanation is that Google hasn't verified your listing yet. Typically, this process only takes a few days, so there's no need to panic.
In the meantime, make sure that all your information is accurate and up-to-date, including your hours of operation, address, and contact information. Once Google verifies your listing, your review should appear automatically.
6. Your Google Review Is Marked As Spam
Google reviews can sometimes be marked as spam, which can prevent them from showing up on google. There are a few different reasons why this might happen. For example, if you're repeatedly asking customers to leave reviews or if you're offering incentives in exchange for reviews, Google may consider your activities to be spammy.
In addition, if you're using duplicate or fake reviews, Google may also remove them from your listing. If you've been experiencing problems with Google reviews, there are a few steps you can take to resolve the issue.
First, make sure that you're not engaged in any activities that could be considered spam.
Next, check to see if any of your reviews have been removed and try to determine why.
Finally, reach out to Google directly for help. By taking these steps, you can help to ensure that your Google reviews are visible to potential customers.
7. You Don't Have Enough Reviews
If you don't have enough reviews for your business, your Google Reviews do not show on google.  This can be a major problem, particularly for businesses that rely heavily on local search traffic. So what can you do to ensure that your Google listing is getting the attention it deserves?
The first step is to make it easy for customers to leave reviews. Include links to your Google listing on your website and in your email signature, and post reminders in your store or office.
You can also send follow-up emails after a purchase or transaction, asking customers to take a few moments to leave a review. With a little effort, you can quickly boost the number of reviews on your Google listing – and help ensure that potential customers see your business when they're searching for what you have to offer.
8. Maybe The Review Violates Google's Policy
Google takes policy violations very seriously- as they should. A Google review is a valuable tool that can help businesses to improve their products, services, and operations. That's why it's so important that reviews adhere to Google's policies.  If some reviews violate Google's policy, they may not show up in a google search.
Also Read: How To See My Google Reviews
Why Are Google Reviews Important For Local Businesses?
Google reviews are important because they provide valuable feedback about local businesses. Google uses this feedback to improve its search algorithms and provide more relevant results to users.
Google reviews also help to promote local businesses by making them more visible in search results. Additionally, Google reviews can improve a business's ranking in Google Maps, making it more likely that potential customers will find the business when searching for relevant products or services.
Finally, Google reviews provide businesses with an opportunity to engage with their customers and build relationships. By responding to reviews, businesses can show that they value customer feedback and are willing to make improvements based on that feedback. As a result, Google reviews are an essential part of any local business's marketing strategy.
Also Read: Should You Buy Google Reviews?
Frequently Asked Questions
1. How long does it take for a Google review to show up?
Google reviews are a valuable way for businesses to collect feedback and track customer satisfaction. But how long does it take for a review to show up on Google?
The answer depends on a few factors, including the number of reviews that have been left recently and whether the business is verified. In general, however, most businesses will see their reviews appear within a few days.
Of course, there are always exceptions, and some businesses may have to wait longer for their reviews to be visible. But as long as businesses are patient, they can rest assured that their Google reviews will eventually show up.
2. Are Google Reviews Permanent?
The answer is both yes and no. Once a customer leaves a review, it cannot be changed or deleted by the business. However, Google does allow customers to edit their reviews if they made a mistake or if their opinion has changed.
Additionally, if a review is found to be in violation of Google's policies, it may be removed. Overall, then, while businesses cannot control their Google reviews after they are posted, there is some opportunity for them to be modified or removed over time.
Hello! I'm the founder of GMB Briefcase. I have 15 years of experience in SEO, Content Strategy, PR, and more. I love helping businesses grow and achieve their goals. My team and I are dedicated to providing top-tier service and support to our clients.