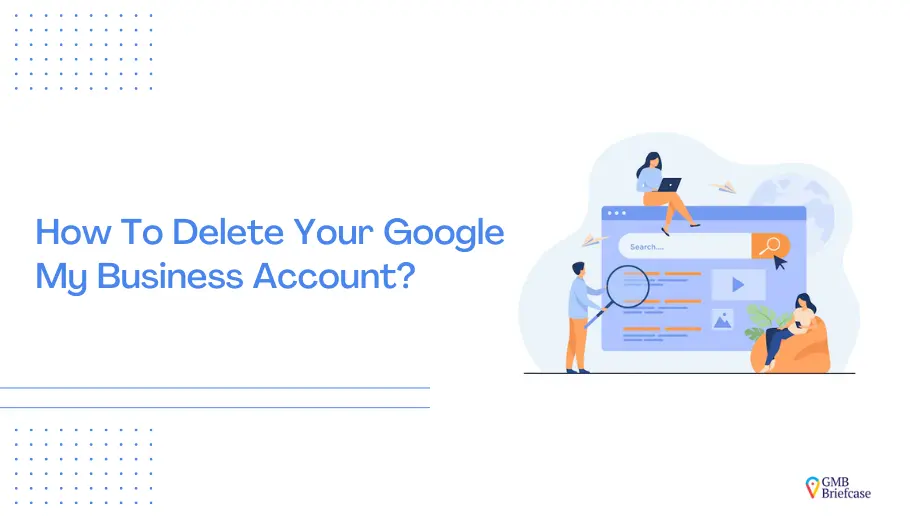 Google My Business Account is helpful because it can drive more customers to your business. In any other case, there is no reason to have and manage a listing. So, you can learn how to delete your Google My Business Account in this post.
A Google Business listing provides your potential customers with your contact details that allow them to find you. When Google confuses your customers or provides them with wrong information, you can consider deleting or closing your listings.
Why Do Business Owners want To Delete Their Google My Business Account?
There are several reasons why they want to delete their Google My Business account. Maybe they're no longer in business, or they moved to a new location. Or maybe they just don't need the account anymore.
Whatever the reason, deleting your Google my business account is a simple process.
Keep in mind that once you delete your google my business account, you can't get it back. So if you're unsure about whether or not you want to delete it, you may want to consider deactivating it instead.
How To Delete Your Google My Business Account?
You can follow a few simple steps to delete your Google My Business Account:
1. Sign In To Your Google My Business Account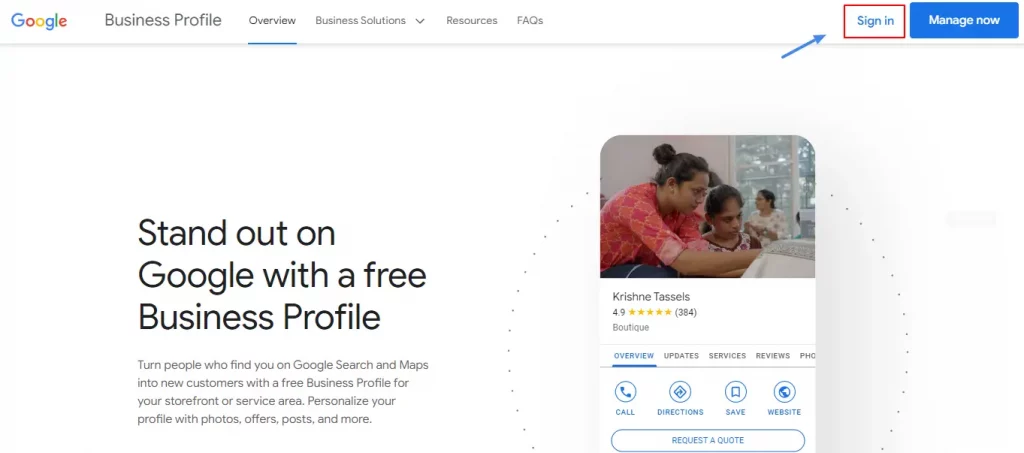 2. Click On the "Businesses" Tab On Sidebar

3. Select A Business Do You Want To Delete

4. Click On The "Actions" Button

5. Click On The "Permanently Closed" Tab From Dropdown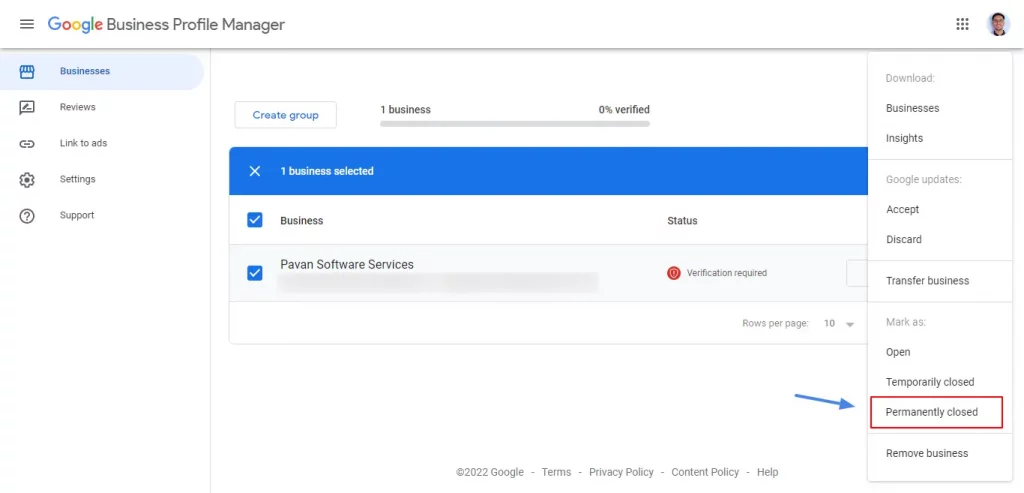 6. Delete Your Google My Business Account Permanently

What Happens When You Delete Google My Business Account?
When you delete your Google My Business account, all of your information will be removed from Google My Business, including your business name, address, phone number, and website. Your reviews and photos will also be deleted.
If other people type your business on the search box, they can find information about it. But the visibility will be much lower because Google doesn't want to send people to closed businesses. But Google still ranks mentions of your business from other sources like websites and social media.
Lastly, your business will disappear or get lower visibility on other features like Google Maps. If you decide to delete your business from Google, this action will be permanent.
Things To Consider Before Deleting A Google Business Account
Removing a business from Google is a permanent decision, so you may need to consider other options before this last step.
If you have changed the locations of your business, you can edit the location and any other contact details. It will allow Google to show your business in the right place and save your data.
If you are not the manager of a business listing anymore, you can change ownership instead of deleting and losing all the previous work.
You don't have to delete a business listing. Google allows you to close it temporarily and reopen it later. This option allows you to reconsider your options later and take advantage of any updates in the future.
Many people want to delete their business listings after getting negative reviews. In this case, it's a better idea to fix the issues that cause negative reviews. Next, you can try to delete the negative reviews.
If you have really closed your business permanently, you must inform your Google My Business and your customers. In this case, deleting your listing is the best option.
Also Read:  How to Transfer Ownership of Google My Business
Final Thoughts
If you want to delete your Google My Business listing, you can follow the steps above for one or more businesses. However, it is a hard decision because Google will not allow you to create a new listing for the same business in the future.
You can consider some of the things mentioned above before removing a business from Google.
Frequently Asked Questions
1. What Happens If I Delete My Google Business Account?
If you delete your Google my business account, your business listing will be removed from Google Maps and search results. Your customers will no longer be able to find your business online, and you will lose any reviews, photos, and messages associated with your listing.
2. Can You Recover A Deleted Google My Business Account?
Once you have deleted your account, all of your business information will be permanently removed from Google Maps and search results. If you think you may have accidentally deleted your account, or if you need to delete your account for any reason, we recommend reaching out to Google directly for assistance.
3. How Long Does It Take To Remove My Business From Google?
Once your listing has been removed, it can take up to a week for the change to be reflected on Google. In the meantime, you can mark your business as "permanently closed" on Google Maps to ensure that potential customers are aware that your business is no longer operating.
Hello! I'm the founder of GMB Briefcase. I have 15 years of experience in SEO, Content Strategy, PR, and more. I love helping businesses grow and achieve their goals. My team and I are dedicated to providing top-tier service and support to our clients.