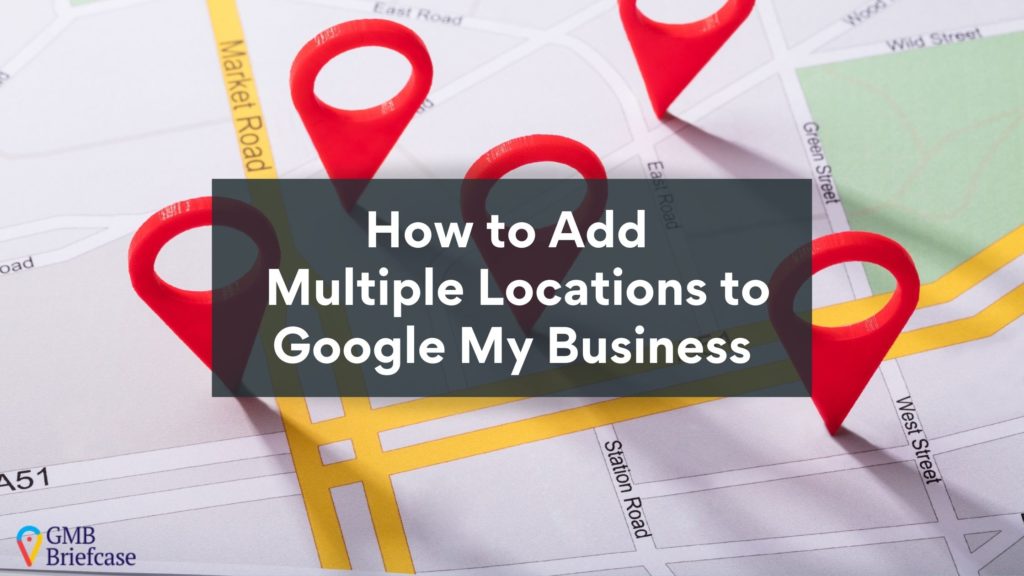 When there is a business with great potential, there is always the possibility of expanding business in many cities or many countries. Then, it is not outrageous to think of further how to manage Google my business multiple locations in GMB. When someone starts a small or a startup business, there is always a chance of its existence in various cities.
 Local SEO
It is essential to rank in Local SEO because you aim straight to rank on SEO worldwide. Then there will be huge competition waiting for you to squeeze your pocket to nothing. Because ranking on SEO is quite difficult and costly, one can expect to Rank for a specific Keyword for a limited time with a massive sum of money. 
And no small business can bet that much for little benefits thus, one should Start from local customers to gain more profitable and trustworthy clients.
In Local SEO, the location of business matters most and one will not like to close an eye on it. Thus if any business owner of a company has multiple shops and stores in various locations even in a city or in other countries, they must add their store location through the proper procedure on Google My Business Profile.
Why should all your business Locations be on GMB…?
Cultivating an online appearance is critical, especially if you want to manage multiple online stores for all of your business's locations and present detailed, up-to-date data. Creating a Google My Business profile is all the more necessary for local business proprietors.
By registering your business title on Google, you provide a medium to contact you, to reach nearly 4 billion internet users to discover your online business through the world's most popular search engine.
If you are a local business owner with multiple locations, you want these locations registered, modernised, and attended. With the GMB tool, businesses with various locations can serve greatly, increasing their possibilities of being highlighted in local search outcomes on SE while running their local listings efficiently.
How to add Single or less than 10 Locations to Your GMB Page
Now just, follow the steps given below to get listed multiple locations of your business but less than 10 addresses.
Step 1: Sign in to your Google My Business Profile and access the Dashboard.
A
fter signing in to the Google My Business account, you just have to find the blue button, with the "Manage Now" tag and click on it.
And once you are here, it is time to go to the GMB Dashboard, where you can manage multiple things. But this is the junction of the open tool that enables you to maintain your listing and details concerning your business category, contact information, physical locations and more than you can think of.
Step 2: Find out the Add Business Drop-Down Menu.
On the Dashboard page, you will have to locate the "Add business" drop-down option, you will find thi0s option on the Top Right Corner of the page in blue colour.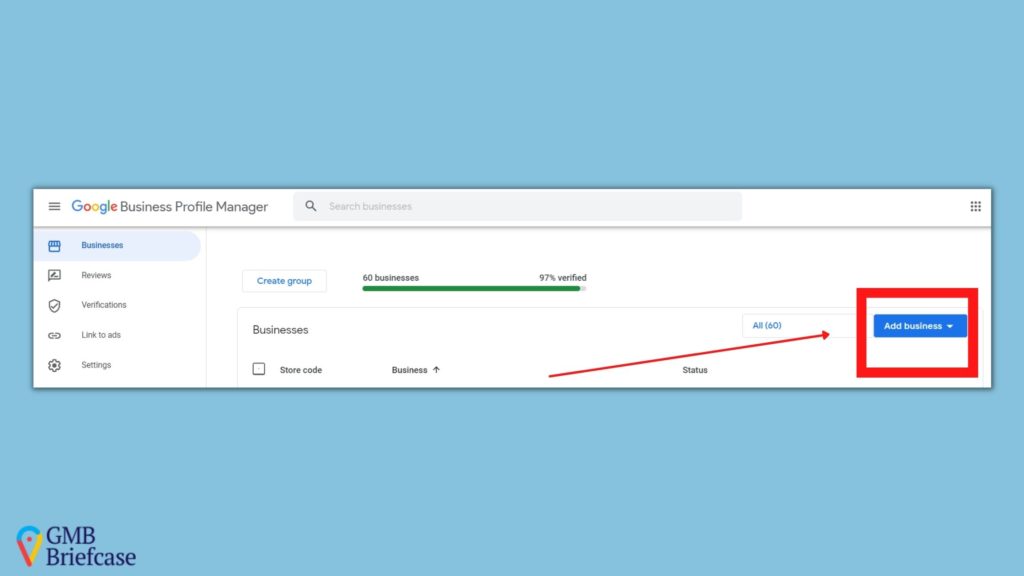 Step 3: Now click on the "Add Single Business" Button
After clicking the "Add a single business" button the drop-down menu will appear where you will again have to click "Add a Single business" to add your other business location.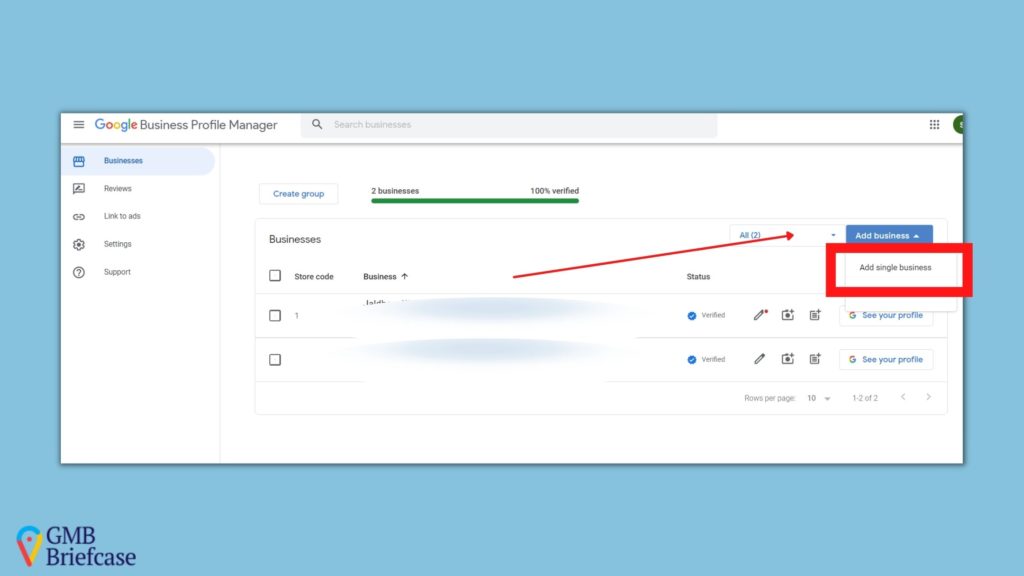 Step 4: It's time to enter your information.
After completing the steps given above you will be redirected to a GMB Setup Page. In this step, you'll be asked to enter accurate information, just like you might have entered before on your existing business listing.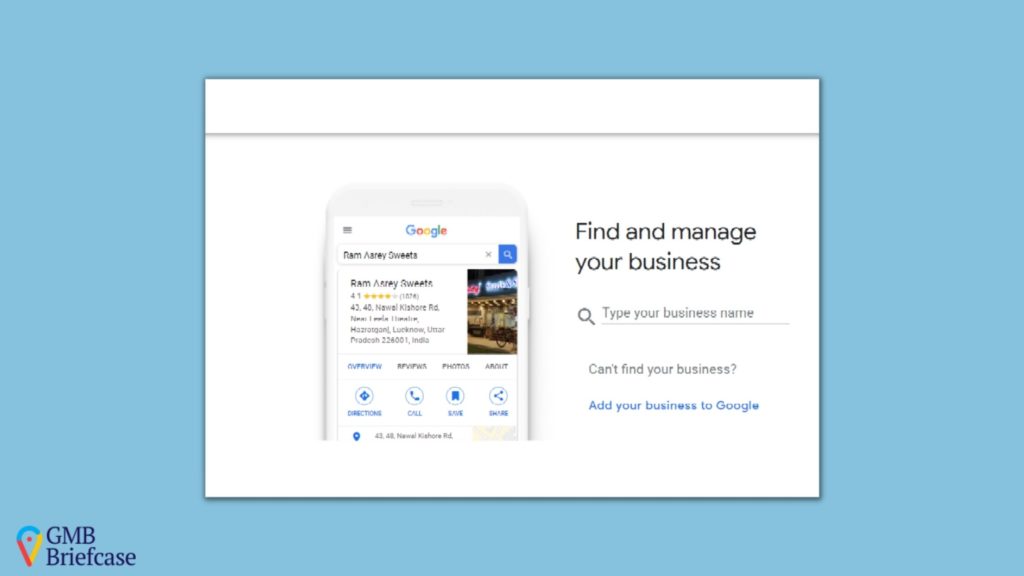 Ensure to renew all the data so that considered customers or searchers, who are handling Google, can find your business easily. This involves updating the location erudition and any fresh business data that may be important for that location. Also make sure to update other things like business hours, phone numbers, and more.
Step 5: Time to verify business listing
After adding a single business location google will ask or need you to verify your listing to become sure that it is legitimate and active.
After adding a single business location google will ask or need you to verify your listing to become sure that it is legitimate and active.
To verify your GMB listing in several ways which include most common methods like
1: By Postcard or by Mail
2: By using email (normally suitable for assistance area businesses)
3: By phone call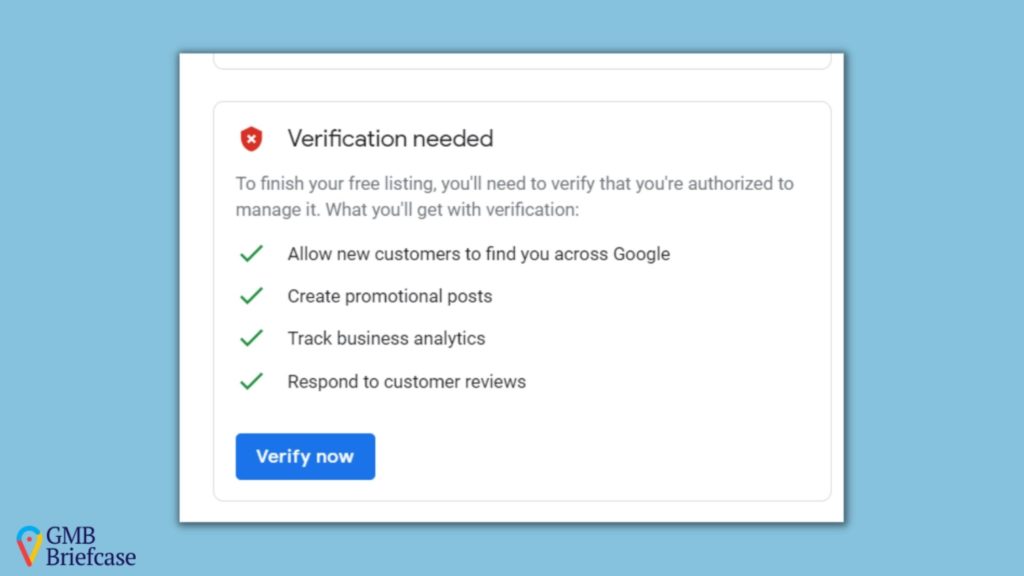 This method is suitable when you wanted to add less than 10 Locations for your business, but you will have to verify each individually
How to Add 10 or More Locations to Your GMB Page at Once…?
If you want to add 10 or more than 10 Business locations to your GMB profile, this will be the best method.
Step 1: Access your dashboard after signing in
As always you can never handle your GMB function without signing in thus you will have to sign in first in the GMB account. After some navigation, you will have to visit the Add Business tab to add 10 or more than that business location at once.
Step 2: Now Find the "Add Business" Dropdown Menu blue button
Similar to the previous method we will have to find this "Add Business" Button for the drop-down menu.
Step 3: Time to import Businesses
This can be a turning point in the whole process as it is different from the last method. Here you can manage multiple 10 or more than 10 locations to say specifically in the easiest way to add them in a bunch of uploads to save time.
Step 4: Download File and Import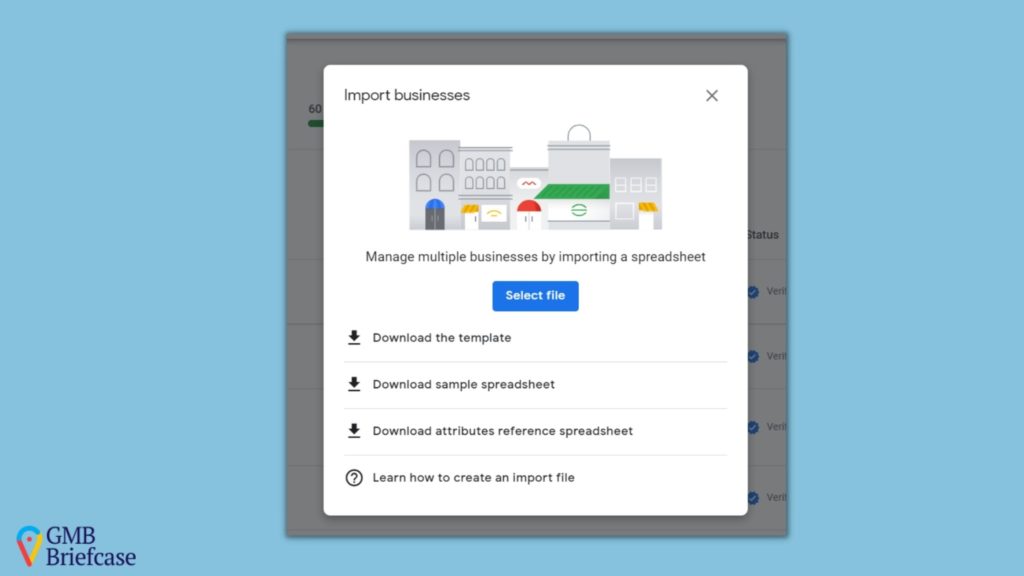 After Clicking on the "Import Business" button you will get three choices on the resulting page. From there you can download the "template file" to add multiple business data "Sample Spreadsheet" and the "Attributes Reference Spreadsheet". To make sure you are going on the right path make sure it looks similar to an Excel spreadsheet 
Now download the template and fill in the business-related information on each listing preciously.
which includes the details on- 
Store code

Business name

Address

Sub-locality

Locality

Postal code

+ more!
 Just enter accurate and as much information as you can because more information can lead to better results. But don't mislead them with each other.
If you're managing various locations, manually stuffing out each column might take little time. In this situation, you can download the attribute file mentioned earlier, and this will permit you to load out all the data in one go so you will have less suffering.
Once you're finished picking out the template, sail back to the identical page and this moment, click the choice to upload the record. Once you have uploaded and saved the file, you are ready to move on to the next step.
Step 5: Verifying All Listing Business Locations
Google provides you with an option to ask for bulk confirmation for 10+ locations. In your Google My Business dashboard, you will have to click on the verification menu, which exists on the left-hand side.
 And click on the "Chain" button to complete verification that pops up where you will be asked to fill in the information related to 
Location names

Regions 

Contact information of Business manager  

Manager email of Google Account
And submit your verification form and wait for approval from Google. Google may reach you for further details if needed to accomplish the process. And that is how you can add Google to my business multiple locations in GMB. Stay tuned with us for related information to SEO and GMB.