What are Local SEO Specialist Services?
Put simply, Local SEO Tools & Specialist Services (or Local Search Engine Optimization) allows for people in your vicinity to find you when looking for goods, services, or information relevant to your business.
While Organic SEO Services more often relate to how your website ranks in Bing, Amazon, or Google's Search Results, Local SEO refers to how your Google My Business (GMB) listing or Google Business Profile ranks in the Google Maps Pack or your business shows up in Apple Maps.
Local SEO Tools & services help to ensure that important listings in local directories (or citations) are kept up-to-date. While it might not seem very important, Google uses signals from local business directories to increase your local rankings — so while a customer may not always go to the Yellow Pages to find you, Google most certainly will.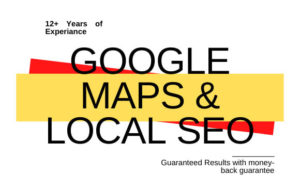 What Local SEO Specialist Tools & Services Does
Often, when prospective customers search for a product, service, or point-of-interest, they will add the phrase 'near me' to narrow the search area. GMB Briefcase ( All in One GMB Management tool) & Citation Builder Pro's Local SEO Services can help to ensure that these new potential clients will see your company's name ranking high on the search results.
Optimally, you'll want your business to display in Google's Local 3-Pack. A highly valuable piece of digital real-estate, this colorful, prominent map listing includes the three businesses Google considers to be the most relevant to the searcher's query, search location, and of the best quality.
Did You Know? From 2015 to 2021 the number of search queries that use the phrase "near me" increased by plus 900%! (That's a lot of business!)
Our top-of-the-line local SEO services can provide:
Increased visibility with local buyers, on search engines and online directories
More website traffic
Targeted leads for those close to your geographical location
Google My Business Optimization & Management 
Reviews Management to enhance your credibility with potential clients and customers
Did You Know? While it might seem obvious, 97% of people looking for a specific product or service now use search engines. This means, if you're not optimized, you're missing out.
With such fierce competition online, you simply can't afford to neglect your Local SEO. CBP – GMB Briefcase's local SEO experts are at the forefront of Google's ever-evolving algorithmic developments, delivering Local SEO Services that are a cut above the rest. Check Our GMB Management SaaS tool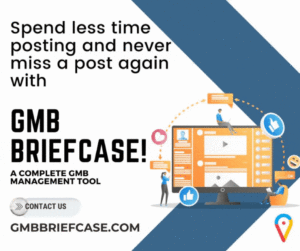 Looking for the Best Local SEO Tools & Services?
If you're looking for the best local SEO tools & services then you'll need:
Google My Business Optimization
The best Google My Business listing contains all of the necessary information a potential client may need to find your business. But it doesn't stop there. GMB Briefcase can ensure that your GMB listing is correctly optimized & provide the GMB health report, consistent NAP, technical architecture, and much more… When someone types in "best … near me", we want you to rank high!
Reputation Management and Reviews Management
Put simply: Reviews Matter
87% of consumers say that they read the reviews for the business, product, or service they're searching for. From tracking, acquiring, managing, and responding, you need to be equipped with the latest technologies to build credibility, trust, and loyalty for your business. If your business has a 4.7-star rating with 22 reviews, potential customers will see greater public endorsement than a competitor's listing that shows less (or even no reviews). Reviews can also help increase local SEO rankings, so it's important that, wherever possible, relevance leads to social proof to demonstrate that your product or services are trustworthy.
Remember: Google wants to show results to searchers that resolve the query they're looking to answer. Anything you can do to help Google do this job better, the more the search engine will reward you.
GMB Briefcase tool specifically developed for Multi-Location businesses and Digital marketing agencies that manage hundreds of listings/locations. GMB Briefcase is a Custom built SaaS Suite that solves most of the GMB management needs.
Local Directory Citations and Business Directory Listings
Local Directory Citations include any mention of your business in online directories or industry-specific sites and are essential to Local SEO. Directories such as the Yellow Pages or City Local aren't just for people, they're for search engine crawlers too. The more references to your business in high-value directories the better. Know more about our Citation Building services Process in detail at – citationbuilder.com
How Do I Know Our Local SEO is Working?
At Citation Builder Pro (CBP) and GMB Briefcase, we're dedicated to transparency and communication with our clients. Our reputation is only as good as your success, and we want to earn your trust as a partner for the long term. As such, we'll endeavor to speak in a language that makes sense to you, reducing unnecessary or often difficult to interpret 'jargon' and providing reports and analytics on:
• Local Citation and Business Directory Listing Information
• Map Pack Ranking Data
• Detailed Grid Analyses (that show how far from your location your business listing is ranking)
• Keyword Data (including Search Volume and Purchase Intent)
• Clear and Transparent Pricing
• Regular and Clear Communication (including on Strategy and Implementation)
• Supplementary Analytics Reports
• Custom Reports suitable to your requirements.
• And much more…
Free 1 Year GMB Chatter subscription & Local SEO tools
If you run a business that sells products or services locally, use the tool below to get your FREE LOCAL SEO TOOLS & AUDIT that includes a detailed analysis of your business performance in minutes! Contact our live chat support for more details –