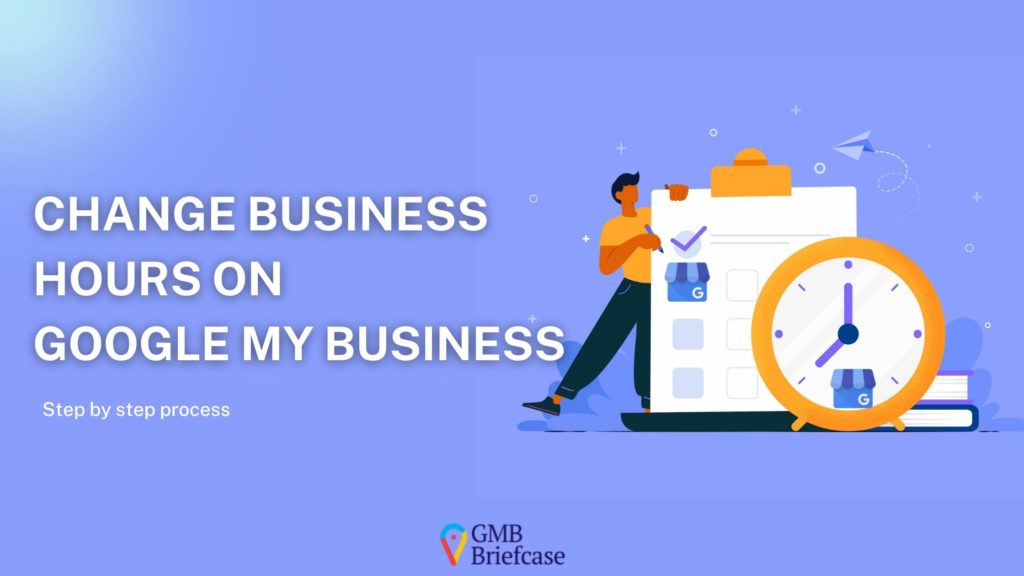 When you want to run a business, then office hours or working hours become essential in every aspect as the customer may visit your store at the wrong time. Thus adjusting your office hours is a crucial step in business management. When you want the customers should visit your physical shop at specific hours.
Then you have to adjust opening and closing times according to your convenience. For local businesses, it is essential to have working hours specified properly on Google for local SEO.
As we have seen, why should we add working hours for Local SEO? but, now how to change business hours for our shop?
You know, it is a very simple process similar to a cakewalk. Then How do I change my business hours on google at the time of festival or local holiday? Before going through the process, we will have to look at categories and define your Business hour changes.
Types of Hours in Google My Business
There are three types of business hours in Google My Business. Check out the following Image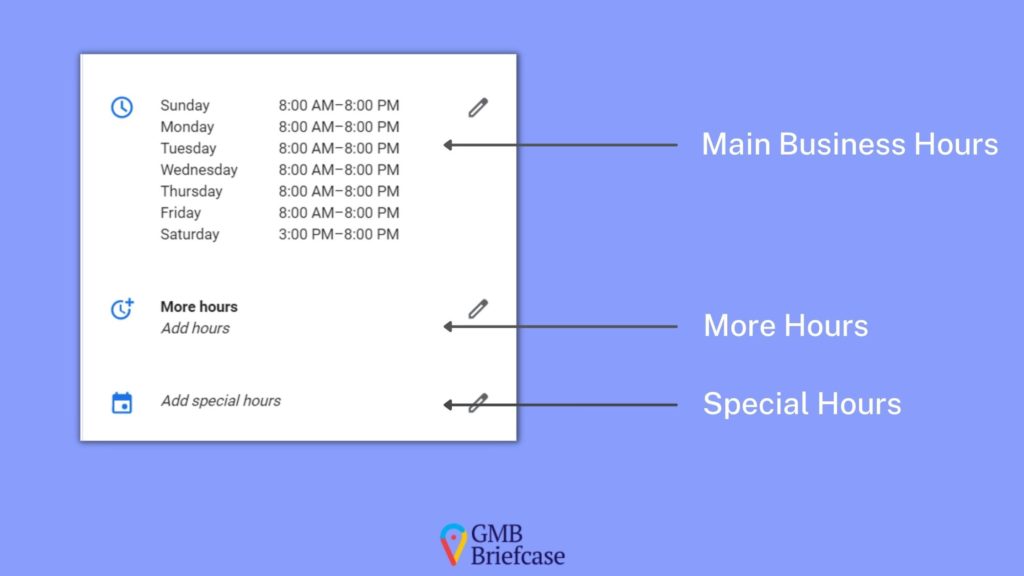 Main Business Hours
These are the standard hours of operation for the business like opening and closing times on weekdays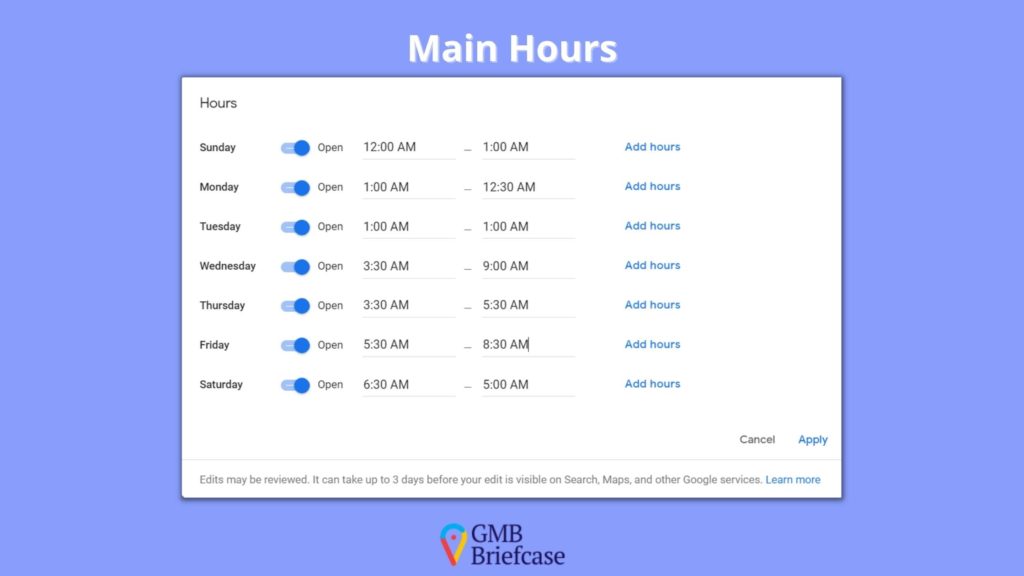 More Hours
You can add additional hours like lunchtime, takeout meals, and even more!
Note – More hours don't display until you first set regular hours.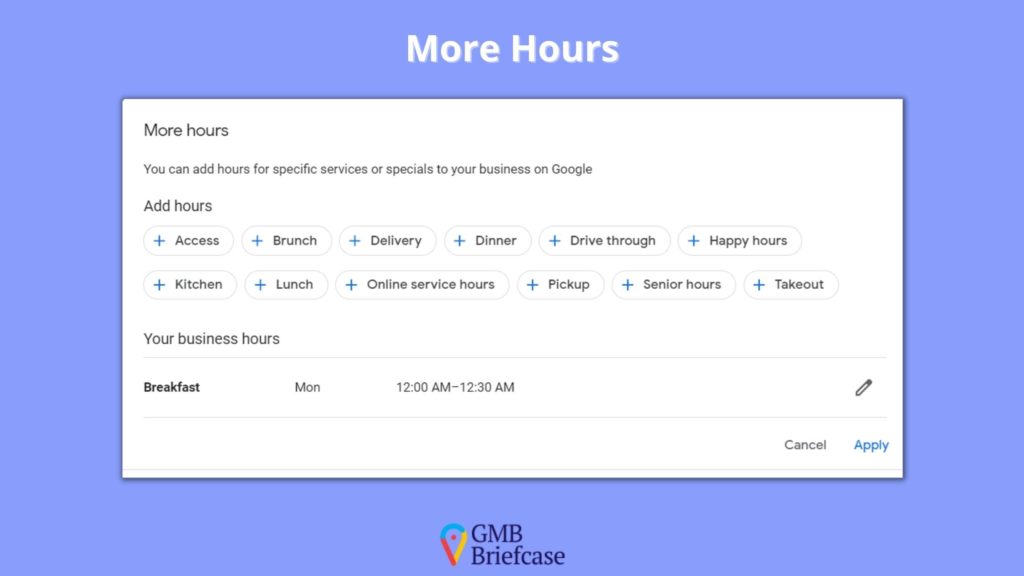 Special Hours
If you have a special event that is going on in your shop, such as Christmas, and need to change some of the regular day-of hours for its duration then simply edit this section.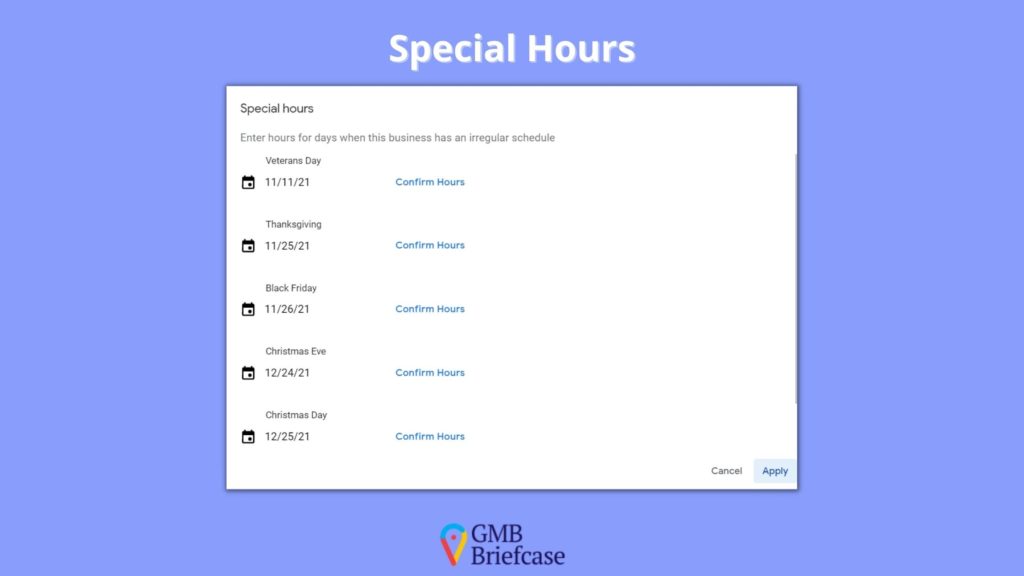 Working Hours Categories
Changed Hours of Operation
If you are going to change the timing of your shop, then your working hours will fall in this type. For example, If you are shop is always open in the daylight. But from today, you will open your shop in the afternoon, then you will have to make changes under this type.
Temporarily Closed
Under this category, you will have to make changes if you shut down your shop or business for a complete day or more.
For example, you are not available for some days. Hence, you will have to close the business for a day or more, then you can make changes while remaining in this field.

Permanently Closed
" The word defines its definition. "Similar to this idiom, if you are closing your business permanently, then you will fall under this category.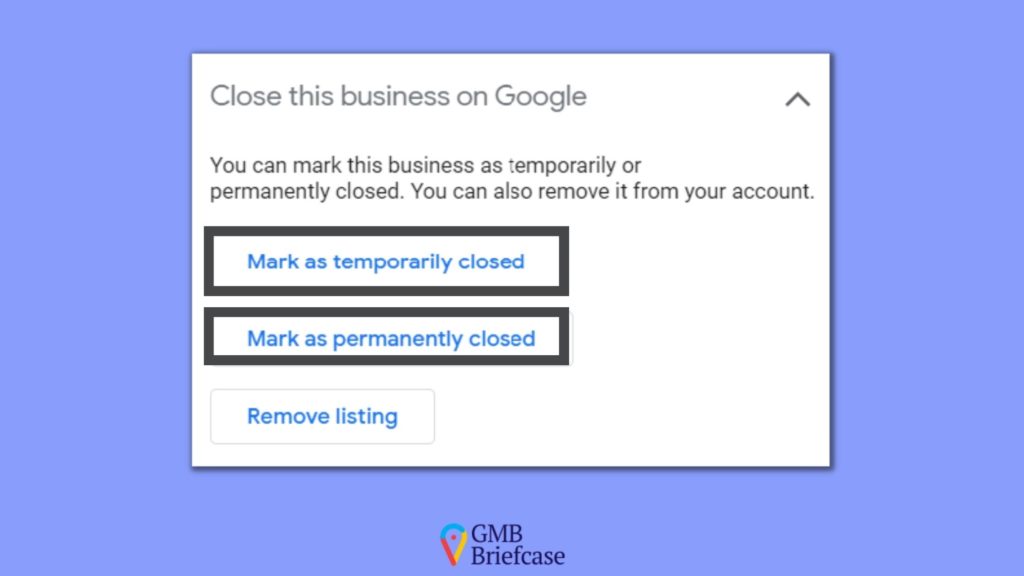 Combination
This category covers a blend of business hours and closing days changes. When you are going to change your business hours and days according to your need.
For example, In the lockdown, we had to adjust the timing of our businesses and we also had to shut down the shop on weekends. Thus, we can do changes in business hours in the combination category for a similar period.
By giving accurate information, you are helping yourself and also your customers. Moreover, you can change the timing as per plans and goals.
How do I change Hours on Google My Business?
To change your business hour, you will have to visit the Google maps site where your Google maps listing is. Which is powered by Google My Business, For updating hours on google map you will only need to follow the steps that are noted below.
Step 1: You will have to log in to Google My Business.
Step 2: Now, Navigate your Google My Business profile, and check if your business has been listed or not. If not, then read this article.
Step 3
:
Go to the navigation bar, search for the info option, and click on it.
Step 4: Now, you will have to set the hours under the category in which your timing falls, like Changed Business Hours, which is shown, with a clock icon existing hours, then you can edit those hours and apply changes.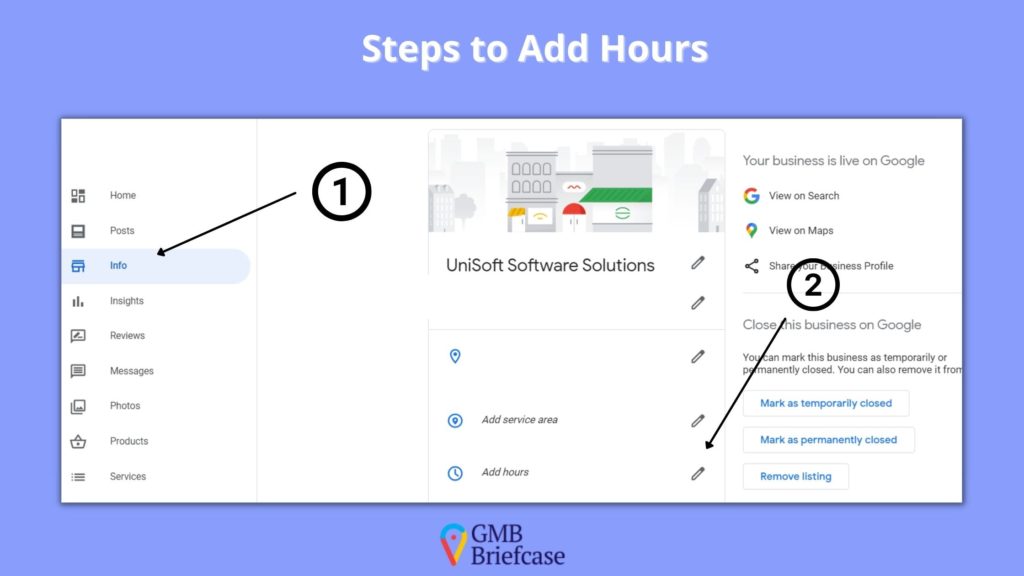 And, If you wanted to do some changes for a temporary or permanent closed category. Then look to the right of the screen and click on the button as per your condition.
There are a total of three methods that exist to Add your Business to Google and, for that purpose today, we will see the most simple and shortest method among them. Just follow the steps and know how to add my business on Google.
You can Get Business on Google on the map through our Gmap
Step 1: First you will have to open Google maps on the desktop or computer
Step 2: You will have to enter the business name on the search bar.
Step 3: Now, what remains is that you have to click on the business name and choose your business type.
Step 4: Go and click on calm this business and go to the "manage now" option.
Step 5: As we know, google never implement any info without verification thus, in this step, you will have to select the verification method
Tip- You must double-check the information that you have filled in.
Latest Top 3 Must tip For Local Business SEO
Since we also wish to rank our business in local SEO. Then we must use some profitable tricks that have proven in ranking on SERP for local Customers.
Use Photos content text-
We all know about Google lenses. So you must be aware of the fact that Google can read the text in pictures and it also loves informative text. Thus you must add updated pictures containing text every month.
Add About us page
With GMB, you get one free website in your pocket, then why not use it for ranking factors. Because Google thinks if a customer visits your business, you should have everything to fulfill his demand. Thus, add a link for the about us page, which can increase the chances of appearing in the first results in business categories.
Call To action
You can also add business hours on special movements like festivals or a specific occasion in the special hour category. You can also change the dates and times according to your need now or in future. Google always expects accurate and updated information for the best results. By following the above steps, you can change business hours for your business.